Forrest Airport has available AVGAS & JET A1 aviation fuel dispensed by bowser. Aviation oil is also available. Fuel is available 24/7 including public holidays. No landing fees apply. Payment can be made by EFTPOS (Bankcard, Visa, Mastercard and AMEX),cheque or cash.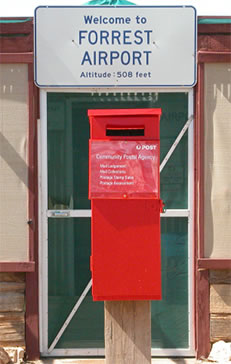 Air conditioned terminal, toilets, complimentary tea & coffee. Refreshments for sale, lunches available but should be pre-ordered. Hangar parking for aircraft.
Accommodation is available in self contained cottages, meals can be provided by managers or guests are welcome to byo food and beverages. Cottages have 3-5 bedrooms and sleep 5-8 people, all linen is provided. Television/radio, heating and cooling, full kitchen facilities, tea & coffee provided.
The managers residence offers home made evening meals and desserts out on the covered deck with drop-down cafe blinds for winter dining as well.
Excellent camping facilities for groups and individuals. Drive in camping under shady trees, or camp at the old Met Office with shelter from the elements. Hot shower, toilet, kitchen, drinking water, fire pits (wood provided), lights and power, lookout and museum.
Bookings can be made on (08) 9022 6403 or contact us here.