Drive or walk the Historic Trail featuring historic hangar, quarry site used to build runways, trans-continental railway, last remaining railway station on the trans line, old telegraph station site, Bureau of Meteorology building (no longer operational) and Museum, Forrest township.
Why not have a hit of tennis or badminton under lights in the historic hangar.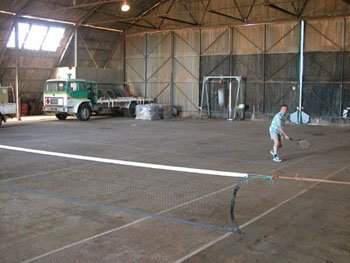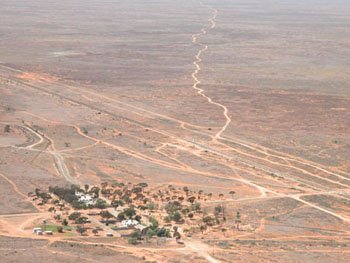 An average of 60 trains per week pass through Forrest along the trans-line, the Indian Pacific four times per week, and several freight trains each day. The trains can be a maximum of 1.8km long and may stop at the Forrest siding to allow another train to pass.
If you hear a toot, it may be the daily paper being thrown from the train or if it's Monday it's the Indian Pacific bringing our weekly shopping and mailbag from Kalgoorlie.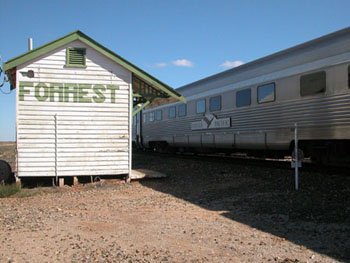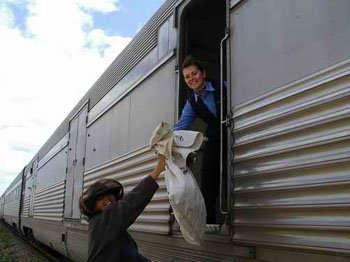 Forrest Museum located in the old Met Office is a journey from the beginnings of Forrest as a railway town, to the airport and Met station and the current day. Much of the information, photographs and memorabilia has been donated by the National Archives, BOM and past residents.
Sit and relax, enjoy the peaceful tranquility of the Nullarbor.
Bird watchers bring your binoculars, a change in the weather, rain or strong winds can blow in a variety of birds from grebes, ducks, herons and waders such as Inland Dotterel, Pacific Golden and Oriental Plovers, Banded and Black Winged Stilts. We even had a Nankeen Night Heron take up residence for a time at Forrest.
Watching the developing chicks of resident birds or prey such as Wedge-Tailed Eagles and Nankeen Kestrels can be a very rewarding experience.
Please download our bird list for more details.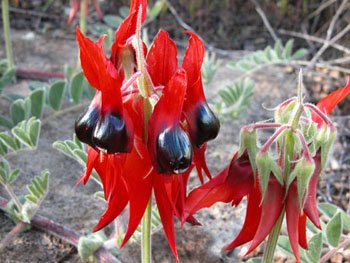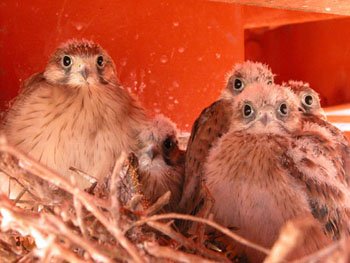 For those with their own 4wd and wanting some adventure there are caves, meteorite sites, blowholes and tektites to be found in the local area.
In 2005 Forrest entered the Tidy Towns competition for the Goldfields-Esperance area of W.A. We were a finalist and went on to win the 2005 Recycling and Waste Management Achievement Award.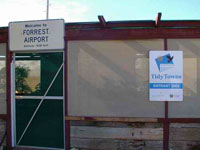 We now have a meteorite camera, complete with photovoltaic panels, located on the old HUFDUF on our historic trail. This was put in by a college in London and built in Prague. There are now three of these cameras on the Nullarbor to triangulate the position of any meteorite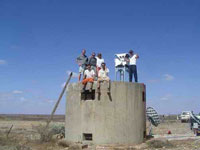 Homestead Cave is situated 41kms from Forrest and is a popular spot for cavers and picnickers.